Pros
The official website offers a huge selection of slot machines;
The presence of sports betting;
Availability of mobile apps for Android and iOS;
Fast support service;
Cons
The Windows phone app is missing;
Few bonuses and promotions;
The casino website is only available in English;
Bodog Review
Bodog has been leading the gaming industry for almost 30 years, offering its customers a variety of casino games, sports betting and, of course, poker. At the moment, Bodog is best known as the Poker-room
Bodog is primarily a brand for the Canadian market, but this does not mean that players from other countries will not be interested in it.
The history of Casino Bodog
The Bodog brand was founded by the famous Canadian gambling expert Calvin Ayre back in 1994. But officially on the American-Canadian gambling market, the Bodog bookmaker appeared only in 2001. Before switching to "online" mode, the operator practiced only ground betting for several years.
With the development of the Internet industry, on the initiative of Calvin Ayre, such niches as e-Poker, Live-casino were created on Bodog (but later this idea was abandoned) and e-Games on jackpot.
In addition, Calvin Ayre founded a special e-Banx for paying players out of winnings. And at that time, almost all bookmakers made money transactions between themselves and customers through the payment systems Western Union and FedEx.
Review of the official Bodog website
The design of the official Bodog website will certainly not leave any visitor indifferent. It is very bright, but at the same time not gaudy. The site looks stylish in shades of gray combined with random bright colors in the menu and framed images.
There is no annoying animation, an abundance of advertising, and in General, the site is quite conservative. The menu is extremely clear and convenient. It is located on the left side of the page and organized according to the area you want to be in. So if you are interested in Poker, you can go there directly from the main site and follow the submenu to find what you need. The same goes for sports games, casinos, and horse racing.
You may be surprised, but horse racing on the Bodog website has its own category, unlike other bookmakers, where horses are part of the sports category.
The frontend features the most popular sections with announcements of significant sporting events and upcoming promotions.
The list of sports is standard. Under sports there are sections with useful information for bettors: Articles, Promotions, Previews, and much more.
Sportbook is designed in a classic style:
In the left column sports disciplines;
A line opens in the center. Until the sport and match are selected, the center is occupied by an ad block;
The coupon is located on the right;
Bodog blog
There is an interesting detail that is not typical for most bookmakers. The Bodog bookmaker's website has a blog dedicated exclusively to betting coverage. Here, players can discuss matches, quotes, and nuances of specific bets. This is much better than the FAQ sections, which contain stingy answers to typical questions.
The blog also has a separate sports column where information on specific sports is reviewed from a professional point of view. However, the statistics section is not provided. Therefore, before betting, you should study the topic on other resources.
Site language: English, Spanish, Portuguese.
Bodog bookmaker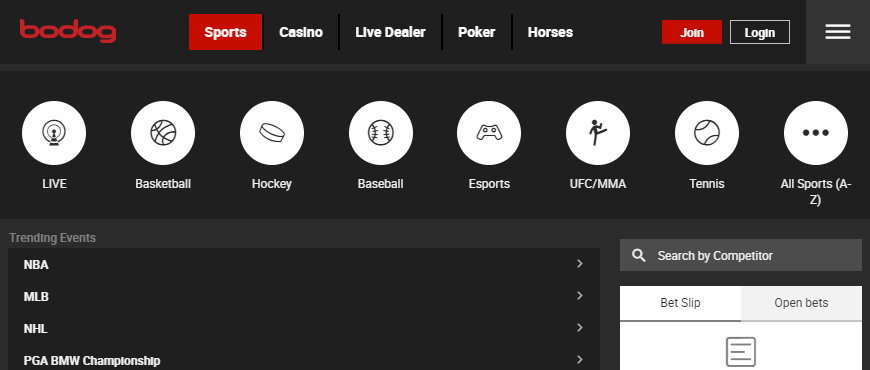 Bodog sports betting is one of the best sites to go to if you like to bet on sports and live in Canada. Football, basketball, and hockey are all to be expected at bookmakers, but Bodog also offers political bets and even bets on entertainment-related topics. For example, you can bet on who will win Big Brother Brazil or on the outcome of events in the series "The Witcher"
Line and quotes
Bodog differs significantly and favorably from competitors in its market segment. More than twenty sports disciplines, and in addition a lot of non-sporting sections where you can bet on political events in the world, show business and other social world events.
The bookmaker has a good idea of the European football theme. In addition to the top leagues, there are betting options for regional tournaments, such as the Estonian Cup or the Zimbabwe Cup.
Painting for top tournaments is up to fifty markets. There are special bets on scorers, goalkeepers, and various variants of combined bets.
In addition, tennis is presented at a fairly decent level. The painting is not as extensive as in football, but there is a good selection of handicaps, totals, including individual bets on sets.
In basketball, in addition to the NBA, you can find the leagues of Algeria, El Salvador, and New Zealand.
The average betting margin is approximately 4.5%.
LIVE section
There are no less than two hundred events every day, which is not quite typical for American offices. In this section, you can see a functional match tracker with the tableau and current statistics.
Special attention is paid to Live-Poker
Bodog Casino
Bodog Casino offers more than 150 models of different brands, including Real Time Gaming, Rival and Betsoft. There are also games of the company's own production.
The range is divided into the following categories:
This includes several dozen 3D slots from BetsoftGaming and Real Time Gaming.
Classic slot machines and video slots from leading manufacturers. This is the largest group.
Bodog supported the resurgent interest in traditional gaming machines, and the famous developer introduced the Total Overdrive slot. However, be prepared for surprises, because not everything in this model is designed in a classic style. Many of them are able to surprise you not only with their jackpots, but also with their avant-garde appearance, which is not typical for casinos.
The Bodog casino website offers several types of blackjack, including Zappit Blackjack.
In this section you will find space roulette, baccarat, craps and other table games of chance.
Bodog has a fairly good selection of video poker games, including all the most popular models, as well as a number of original developments.
This group includes keno, lotteries, bingo, scratch cards, and other games.
In addition, most sections have a subgroup with the most popular models for customers.
Also on Bodog there are free demo versions of games that run on the site even without registering an account.
All games are accompanied by pages with a detailed description of the rules.
Bodog Poker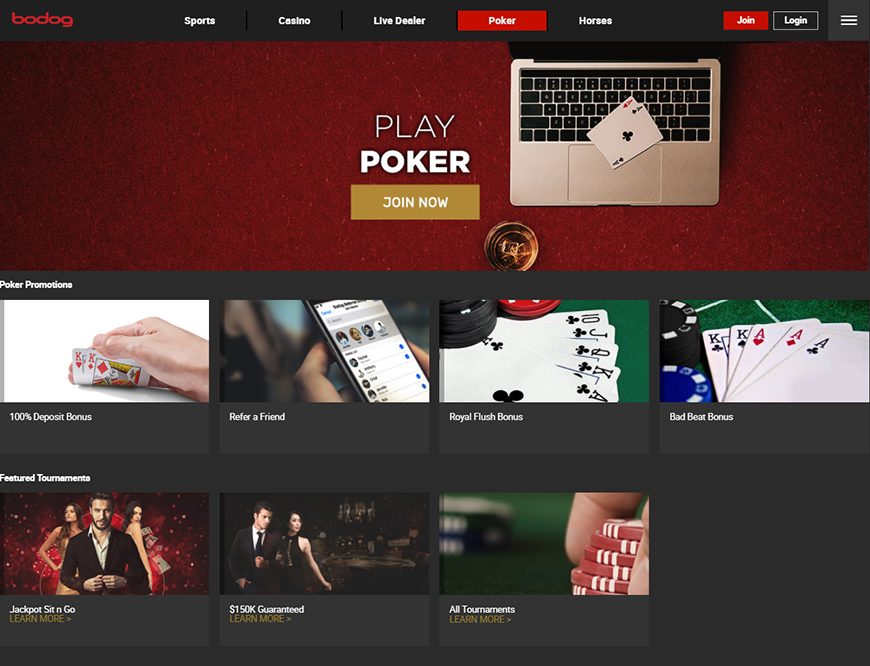 Thanks to its work in the American market, the Poker-room attracts a huge number of players and is one of the five most popular, overtaking many major competitors.
The room occupies a confident third place among all online poker brands and attracts a huge number of fans to its products every day.
The company successfully spends a lot of money to attract new players to already one of the softest games online.
Bodog Poker runs on its own software, offering the opportunity to play hold'em, Omaha, seven-card Stud and several other less popular types of poker. Playing at cash tables is available at any time.
Main features of the room:
Availability of cache, SnG and MTT for hold'em and Omaha;
Weak field;
Simple and intuitive interface;
Availability of analogs Zoom and Spin&Go;
The classical system of rakeback;
Inability to use trackers due to anonymous tables;
Varieties of Bodog Poker
Zone Poker-analogous to Zoom.
Up to 2 tables can be played simultaneously. Rakeback from each pot — 5%. Limits from NL5, Omaha Hi/Lo PL 10 and PLO25 to NL 500, Omaha Hi/Lo and PLO150.
Cash Games-cash on regular tables.
Up to 4 tables can be played simultaneously. Rakeback from each pot — 5%. Limits from NL5, FL10, H / LO5 and PLO5 to NL500, FL 6K, Hi/Lo 2000 and PLO 2K.
SnG Tournaments-CIS tournaments from 2 to 27 people.
Buy-ins from 1.05 to 214 dollars. Rake from 5% to 6.5%.
Jackpot SnG — full analog of Spin&Go.
Buy-ins from 0.54 to 54 dollars. the Rake depends on the multiplier, the average size is 7%.
Scheduled Tournaments-MTT according to the schedule.
Buy-ins from 0.55 to 500 dollars. Rake from 6% to 10%.
Feature of game
There is no table selection option in Bodog, and there is no table list either. The player can only select the limit and table type. Tables disappear from the lobby as soon as they are fully filled – so there are no waiting lists in the room, which has a positive effect on the internal ecosystem.
Bets start at 1 dollar and the Maximum allowed bet is 1000 dollars. And win-100,000 dollars.
Since the entire game is anonymous, Poker-room does not support classic trackers and converters. Deposit and Withdrawal is made only on the basis of our own Bodog banking.
The essence of playing poker on Bodog is that if you do it from Your computer or smartphone, then you need to download the Bodog app. This has its advantages, as having the app also allows you to access the entire range of Bodog casino games.
Bodog bonus
Since Bodog has three branches of development, the bonus program is quite extensive. But the disadvantage is that it is irregular and you need to carefully monitor all updates of promotions and bonuses.
There are not many permanent bonuses on Bodog. These include:
Allows you to get up to 400 dollars on Deposit for beginners who are going to play on Bodog.
After the first successful slot game, a new player can get a bonus of up to 200 dollars.
Everyone who downloads the app and plays with their smartphone gets 10 dollars to their bonus account.
Also, on certain days of the week, all customers can get special bonuses for deposits that are accrued on different terms. In order not to miss the distribution of bonus prizes, we recommend that you follow the updates.
Loyalty program
The loyalty program applies to everyone who regularly plays for money. Real money bets earn points that can be exchanged for credits, tournament tickets, freerolls, or bonuses.
Using points, you can get into qualifying tournaments and live events for free.
You can convert up to 5 million PP per month at the standard rate of PP100 = $1 or higher in any promotion.
How do I get a bonus from Bodog?
Bonuses become available to the player immediately after completing the required preliminary actions:
The player must register on the site by entering real data in their profile;
After registration of the "personal account", you must open an account and Deposit an amount of at least 10 dollars;
In order to activate the bonus, you need to sign up for the prize in a special section, confirming your consent to receive three welcome bonuses;
After completing all these actions, the player will automatically be awarded bonuses.
Registration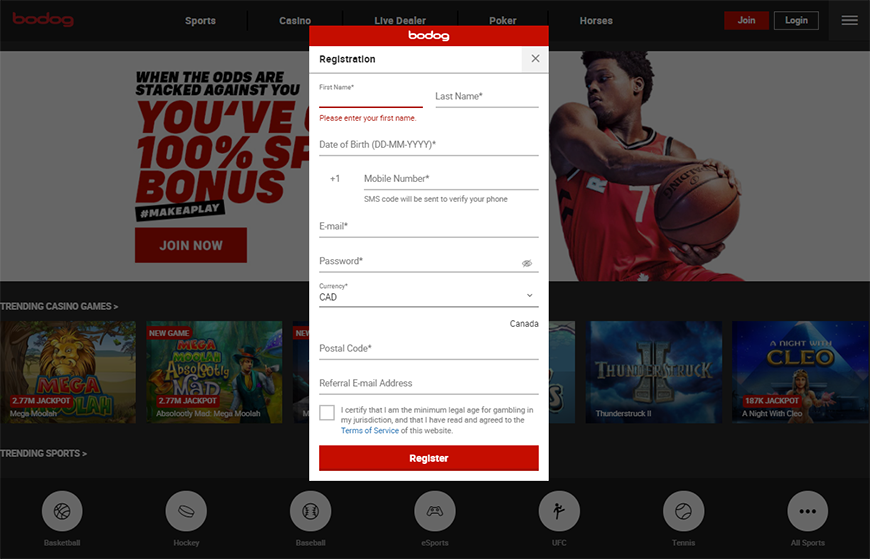 The Bodog company is profiled on Canadian and South American players. The site automatically recognizes the geographical location of the client who wants to register, so it is not easy to deceive Bodog.
However, the registration process in the Bodog bookmaker is standard and has no fundamental differences.
Attention!
Before registering, delete all cookies in the browser.
How to register with Bodog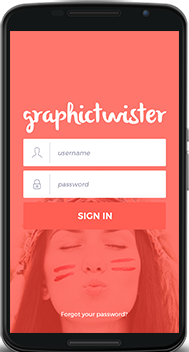 Click the " Register" button and the link will redirect You to the registration page or to Skype – service@bodog.eu where You will get a special link. Once there, just fill out the form and click on "Get My Bonus" in the middle of the screen.
After that, you will receive an email to verify your account. Verify your account by clicking the link in the email.
Step 2 – Enter your personal information
Then, when registering with Bodog, you need to enter your personal data, such as your country of residence, address, phone number, and currency.
After registration, it is better to immediately send the documents to the support service for verification.
Step 3 – Implementation of the binding
In order to have access to exclusive Bodog promotions, you must confirm your Username.
To do this, log in to your Bodog Casino account and go to the Submit Usernames tab and enter your username.
Then write to Skype: service@bodog.eu your Username, date and country of registration.
Step 4 – Make your first Deposit and get a bonus
After you have created an account and confirmed it, you can make your first Deposit and get a bonus.
Bodog Mobile
Another area where Bodog has excelled is mobile betting.
Mobile bids are simple and fast to use.
The mobile site is available for Android and iOS devices. But there is no version for Windows phone.
The choice of games is not very large. We can say that the developers of the mobile version took a little from each section and implemented it in this application.
Overview of the Bodog Mobile App for Android and iOS
The app is a mobile browser version of the site.
In total, Bodog App offers more than 100 video slots and more than 20 table games.
The Bodog mobile client also has a bookmaker and Poker-room.
The app provides a full range of features that are present on the official website:
Sport betting;
Casino;
Poker-room;
Live;
Personal page;
Deposit and Withdrawal;
Settings;
Simple and standard navigation does not cause difficulties in use. Familiar components: side menu, lists, tabs, and cards simplify interaction.
Bodog Mobile App for Android and iOS allows players to conveniently and intuitively place bets and play in the casino.
System requirements
Provider: Gesso Communications, Inc
Size: 7 MB
Compatible with iOS 8.0 and later.
Compatible with iPhone, iPad, and iPod touch.
Language: English
Age: 18+
Provider: Gesso Communications, Inc
Size: 7 MB
Compatibility: requires an installed version of Android 4.0 or higher.
Language: English
Age: 18+
Deposit and withdrawal
Bodog accepts all the most popular Deposit and withdrawal methods. For example, you can always use your Visa or Mastercard cards to top up your account, even if they are anonymous prepaid cards. Another important payment method for Bodog online casino is the instant electronic check and interact transfer, which allows you to use online banking services to top up your account.
Deposit and Withdrawal methods
All payment methods are available with a Commission of 5-7%, with instant crediting.
Conclusions are also available without Commission from the office, but the processing time depends on the chosen method — for most of them it takes 1-2 hours. It will take 1-5 banking days to make a withdrawal to a Bank card or via Bank transfer.
Western Union and Rapid transfer – Moneygram transfers are also available – the fastest (24 hours), but with the highest Commission, on average 10% for each transfer. Cashout by other methods takes 4-7 business days.
| | | | |
| --- | --- | --- | --- |
| Type | Deposit amount | Withdrawal amount | Time |
| Mastercard | 10$ – 100$ | Unavailable | – |
| VISA | 10$ – 100$ | Unavailable | – |
| ecoPayz | 10$ – 1 000$ | 20$ – 1 000$ | – |
| Bitcoin | 10$ – 5 000$ | 20$ – 5 000$ | – |
| American Express | 10$ – 100$ | Unavailable | – |
| Boleto Bancario | 10$ – 1 000$ | Unavailable | – |
| AstroPay | 10$ – 5 000$ | 20$ – 5 000$ | – |
| Transferencia bancaria local | 10$ – 3 000$ | 20$ – 2 000$ | 1 – 4 days |
| Bitcoin Cash | 10$ – 5 000$ | 20 $ – 5 000$ | – |
Contact information
Bodog's Support service operates as standard. There is a "Help" section where you can find answers to many important questions. The site also has an informative section "Guide" with a lot of interesting information on various issues related to gambling entertainment.
If you need help from administration representatives, you can safely ask for help using one of the following methods of communication:
Bodog bookmaker offers its clients high-quality round-the-clock technical support.
Each user can write a question, describe a problem, or make several suggestions for improving the service on service@bodog.eu.
The response time is up to 30 minutes.
The Bodog Poker-room hotline is available to players around the clock. If you have any problems, you can call the technical support service at the phone number listed on the official website of the casino.
The response time is up to 5 minutes.
FAQ